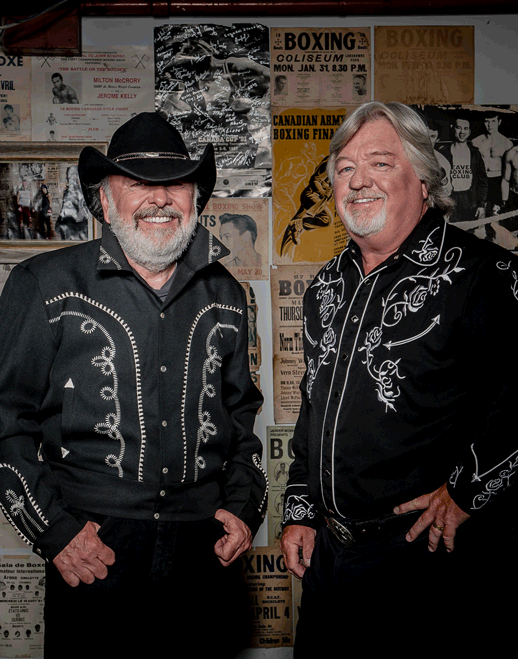 Canada's premiere Country Rock/Southern Rock band from the 70's through the mid 80's, the Cooper Brothers first gained international attention when they signed with Capricorn Records (famous for producing several of the most popular southern-rock acts of the time including The Allman Brothers, Marshall Tucker, Delbert McClinton and Elvin Bishop). Over the next few years the Cooper Brothers released two albums under the Capricorn label, the self-titled, The Cooper Brothers and Pitfalls of the Ballroom. Both albums sold extremely well and the singles "The Dream Never Dies", "Rock and Roll Cowboys" and "I'll Know Her When I See Her" all charted on The Billboard Hot 100.
Among their many accolades, the Cooper Brothers were voted Best New Group in 1978, Best MOR Group in 1979 and Best Overall Group in 1980 by Canadian Contemporary Music Programmers. In 1980, "The Dream Never Dies" also earned an A.S.C.A.P. Award as one of the most performed songs on U.S. radio. The song was subsequently recorded by several other artists including Bill Anderson and Juice Newton. It was also the title song for a feature length documentary on Canada's National Ski Team.
At the height of their career, the band toured extensively with such diverse artists as The Doobie Brothers, Joe Cocker, Charlie Daniels, Atlanta Rhythm Section and McGuinn, Clark and Hillman. In addition, the band worked with some of the most prolific musicians of the day including Chuck Leavell – keyboardist for The Rolling Stones – who played on the Cooper Brothers' track "Ridin' High". After Capricorn Records folded, the brothers released two more albums before disbanding in the mid eighties.
In October 2006, The Best of The Cooper Brothers  was released by the EMI/ Pacemaker label and the band performed for the first time on stage in over twenty years. This prompted a series of live dates including a memorable Ottawa Bluesfest concert, opening up for James Taylor in front of 30 thousand people.
In February 2010, a new Cooper Brothers album  was released, featuring 12 brand new songs by Richard Cooper.  Entitled In From The Cold the new CD was produced by Grammy Award winner Colin Linden in Nashville and featured a number of guest artists including Delbert McClinton, Blue Rodeo's Jim Cuddy and their old friend, Chuck Leavell.
In May 2013 the Cooper Brothers released another new CD entitled Southbound.  The album was recorded at the Tragically Hip's studio in Bath, Ontario and was produced by Colin Cripps – guitarist with Blue Rodeo and producer of such artists as Kathleen Edwards and Jim Cuddy.
In 2017 the band released Radio Silence, which was recorded at Audio Valley Studios in their hometown of Ottawa, ON. Produced by the Cooper Brothers and engineered by Steve Foley, the album features twelve new Richard Cooper-penned originals. The album is available worldwide on iTunes, Spotify and the band's official merch store on their website.